This is the fourth and final post in a series where I check in on my 2012 goals.  The introductory post is found here. 
This week I've been checking in with myself and my progress towards making 2012 the "Year of Yes".  I've had some ups and downs so far in the year, but I think that taking stock and evaluating myself has been helpful and insightful.  It's helped me re-dedicate and re-focus my energies on my goals and the steps I need to take to reach them.  I've realized that I need some serious help in the self-love department, because I can't seem to fix that on my own.  I've developed some better techniques for coping with the compulsion to binge eat.
I've also fully come off of sugar - I started the detox on Sunday, felt like absolute crap Monday and Tuesday, and am now full of energy and ready to keep myself on track regarding carbs and sugars. Will be posting more about that next week.
Seriously, I jumped up and down yesterday because I was so proud of myself post-workout (I did, at one point, imagine I was high-fiving myself):
And while I've been focusing on the things that I haven't been doing well, or have been struggling with, I'm not going to ignore everything that's going so well for me. Here's a quick list:
I am ROCKING my sessions with my trainer. He even said he was proud of me yesterday!
I am totally, 100% convinced I can do the half marathon in May. It no longer seems like a crazy, unattainable goal.
My diet is back under my control. I've told everyone I see regularly that I'm not doing sugar. They will help support me.
My support system continues to be amazingly, mind-bogglingly supportive. I am blessed to have such wonderful friends and family.
My dog is totally the cutest puppy ever. See? So cute, even when she's being bad by jumping on the sofa.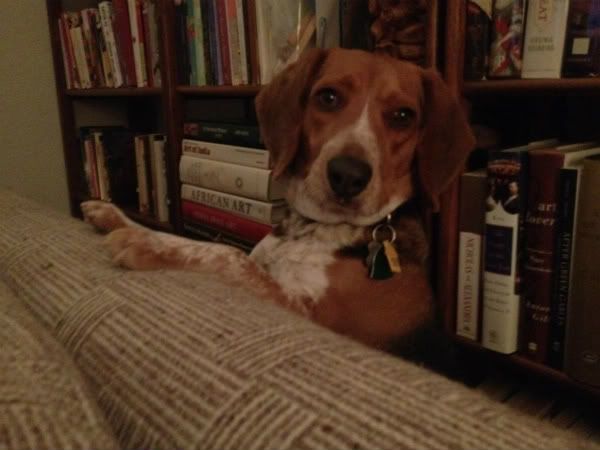 I'm heading into the weekend centered, proud of myself and what I've accomplished this week, and looking forward to some of mom's cooking and spoiling me.