This is the third post in a series where I check in on my 2012 goals.  The introductory post is found here. 
As I type this, I am feeling hungry.  Like I could rip open a bag of chips or cookies and devour them all.  I purposely do not have any extra snacks in my office at the moment for this very reason.  When I am in the office, bored, or emotional, I reach for the nearest food that I can consume in quantity and devour it.
It used to be with junk food; Oreos, Sun Chips, and baked goods were all favorites.  As I've gotten healthier, so, for the most part, have my binges – I find myself reaching for dark chocolate almonds, veggie chips, or Chex Mix – but the urge to eat to soothe something within myself has not gone away.  As I talked about recently, this out of control feeling has left me feeling angry and disappointed with myself and anxious about my next binge. 
Handy Infographic related to Emotional Eating: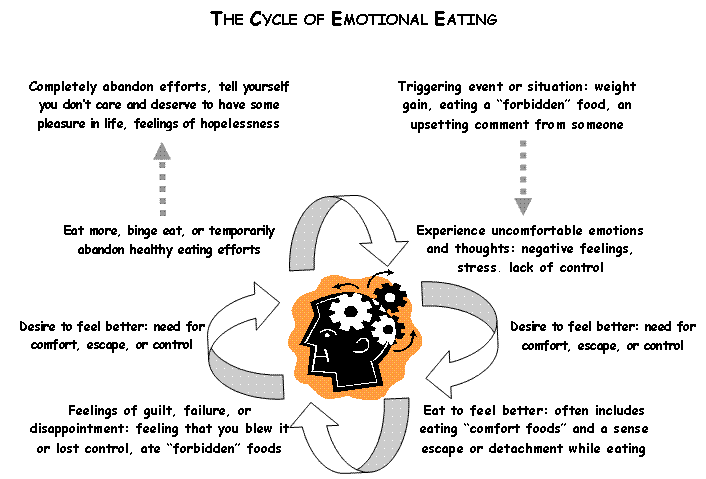 This is a vicious downward spiral that I used this past weekend to break.  I let myself eat whatever I wanted (and I wanted dark chocolate almonds en masse and a bag of Chex Mix at the Hunger Games although, to be fair, I hadn't eaten dinner) and instead of focusing on the past, I looked ahead to the coming week.  Instead of beating myself up about the Cadbury Crème Egg I ate last week, I made a healthy shopping list.  Instead of agonizing over the late-night frozen yogurt I had a few days before, I cleaned out the fridge of anything expired, questionable, or unhealthy.  I looked up some healthy recipes, stocked up on all the essentials at Costco, and made both a healthy dinner with plenty of leftovers and some low carb cinnamon bread for the week.
I don't think that I'll ever entirely overcome my emotional eating.  I remember sneaking my first cookies as a child, for crying out loud, and years of therapy haven't helped me rid my life of it completely.  But I can set myself up for success by not buying binge foods (as of today, no more dark chocolate almonds in the house until I can better control myself), by having healthy snacks with me at all times, and by focusing on the long-term gains instead of short-term wants. 
While I think I want a bag of Sun Chips at this very moment, I don't want them in my body long-term. I don't want to have to re-lose this weight again.  That immediate satisfaction only brings with it self-loathing and anxiety.  And so when I'm hitting the 3 o'clock urge to scarf down a lot of sweet/salty treats, I'm going to remind myself of my bigger goals.
Nothing in the short run will ever compare to the satisfaction of finally reaching my goal weight and staying there!!!